Private commissions
Please contact to discuss availability and pricing details.
---
ROMANO

FAMILY PORTRAIT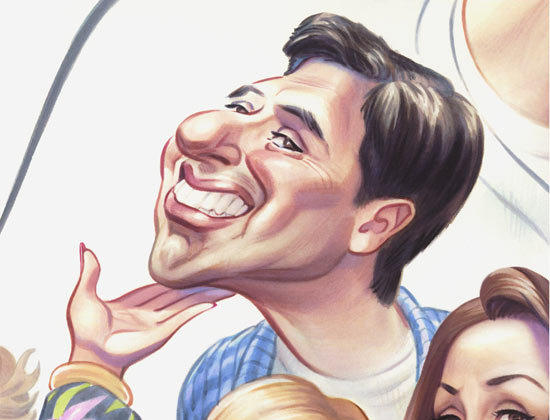 "After 23 years of some pretty lame birthday gifts, I finally impressed my wife. What great job! Thanks for making that happen."

- Ray Romano
---
TONY & JANE
& THE KIDS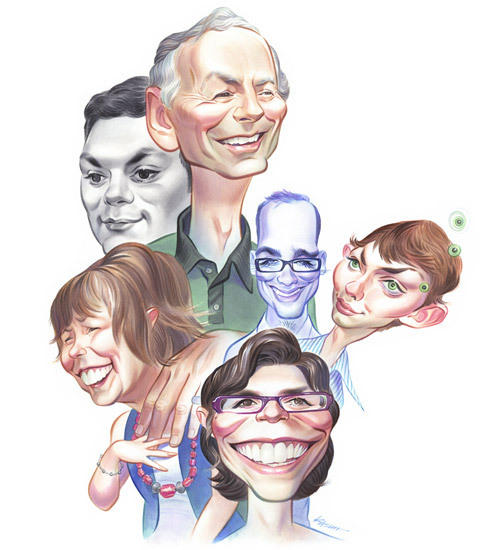 "John Kascht has never met our family. I would challenge anyone to believe this after looking at our family caricature. It is quite uncanny how he has captured the essence of our various characters.
This project started when our children were debating what to give us for our 40th wedding anniversary. Our eldest son who always thinks of the most imaginative gifts came up with the idea. Wanting to go to the best, he contacted John. John prepared some sketches of our youngest to be shown to us at our celebratory party. We were bowled over and very excited with the concept. Many photos, some written explanations and a video later John developed an extraordinary grasp on the workings of our family, our interactions and relationships with each other. Not only has he captured an uncanny likeness of each of us, the composition of our family portrait has been carefully thought out to reflect how each member positions him or herself within our unit. Such is John's exceptional skill.
Having a caricature done is a leap of faith. John admits himself that he takes a feature and either exaggerates or diminishes it to achieve an effect. So there is an element of trust. We are very happy with the end product. We have the portrait hanging in a very prominent place and it never ceases to be a talking point."

- Jane
---
A DOG NAMED

SUPERFUNK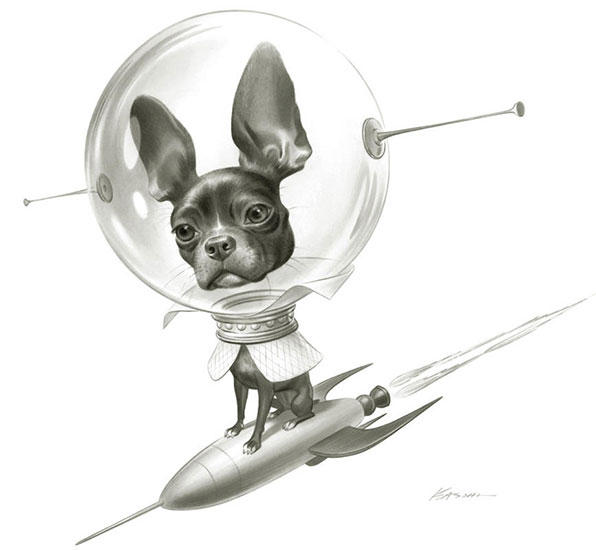 "It was an honor having John create a drawing of our dog Superfunk, and a pleasure working with him. We did some brainstorming and I mentioned one of her nicknames: Chinese Space Monkey. He ran with it, obviously."

- Karl Schloesser
---
PROFILE OF

PAULINE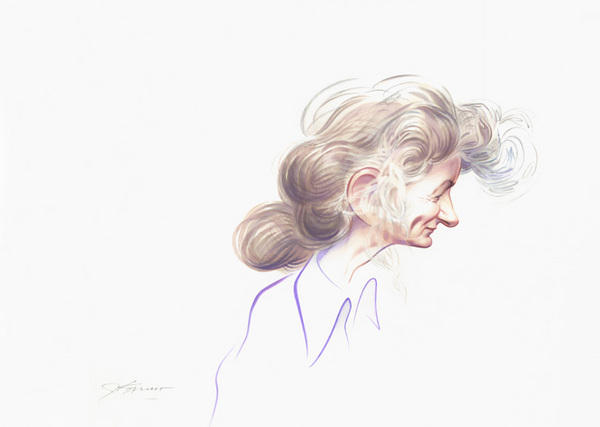 "It was my husband's idea to commission this portrait. Being decidedly NOT a Sophia Loren type, the prospect of having a caricature done was a bit unnerving. But then there was the portrait and it was so absolutely me, even more than me, like me in 4 dimensions. I was quite stunned. Somehow John managed to exactly capture all my signature "strong points" (big nose, gigantic ears, wild hair) but with such charm and sweetness. I mean, how did he do that?? I find it totally engaging with a winsom quality that is really quite flattering. I love it."

- Pauline Glykokokalos