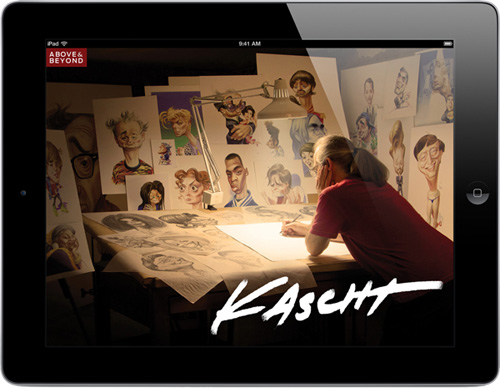 Now on iPad
From the groundbreaking "Above & Beyond" series
of interactive books from Joe Zeff Design.
• Enjoy 30 of Kascht's signature works, presented alongside preliminary sketches, audio commentary and other features that re-create how the paintings came to be.
• Hear Wendy Wick Reaves, Curator of Prints and Drawings at the National Portrait Gallery, describe Kascht's work, and explore many of his paintings that are part of the gallery's collection.
• Interact with the app by exploring immersive panoramas of Kascht's rural Pennsylvania farmhouse and his studio, and peer into the honeybee hives outside his studio.
• Watch an exclusive video in which Kascht describes the process of dissecting and reassembling a subject's features in unexpected ways.
• Learn things about John Kascht that no one needs to know.